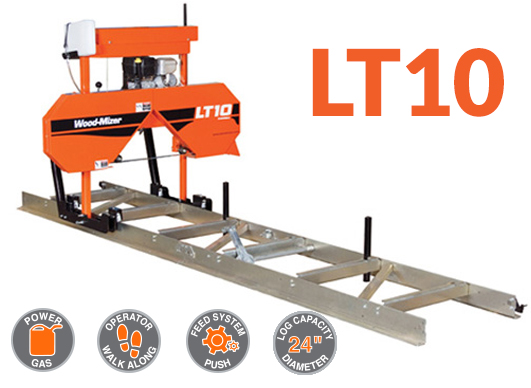 LT10 SAWMILL
The LT10 is an entry-level mill that is capable of producing big dreams for weekend sawyers who love the idea of cutting their own lumber while minimizing their investment.
Specifications
Log Capacity24″ dia. x 11′ long
Maximum Width of Cut19.5″
Production CapabilityUp to 160 bd ft/hr
Weight660 lbs (299kg)
Power Options10HP Gas
LT15 SAWMILL
The LT15 is an overachiever in its class and has produced more than 2.5 times its published board foot per hour rate in several  competitive events. With more standard horsepower than the LT10 and the ability to saw unlimited log lengths, the LT15 is a powerhouse that will take on any size project, dream or lumber demand.
Specifications
Log Capacity28″ dia. x 17′ 8″ long
Maximum Width of Cut23″
Production CapabilityUp to 320 bd ft/hr
Weight1,200 lbs (544kg)
Power Options19HP Gas
25HP Gas
10HP Diesel
17HP Diesel
10 HP Single or 3 Phase Electric